KEF LS50 Wireless II
I lager hos leverantör, skickas oftast inom 1-2 arbetsdagar. Längre leveranstider kan förekomma.
27 990 kr
Enligt mig en av de absolut snyggaste stativhögtalarna som finns.
The Ultimate Wireless HiFi
Nya LS50 Wireless II
är bättre än gamla LS50 på alla punkter. Skillnaden i tekniken är många, men så fort man börjar spela så märker man att både diskant, mellanregister har blivit mjukare med mer detaljer och basen går djupare än innan.
Om KEF med META vill hänvisa till Metafysik, dvs om sådant som vi inte kan uppfatta med våra sinnen, som finns bortom det fysiska. Då har de misslyckats totalt. Vem som helst uppfattar skillnaden.
LS50 II är nu helt trådlös mellan högtalarna med 24bit/96kHz stöd, för en högre upplösning upp till 24bit/192kHz så krävs kabel mellan de två högtalarna som medföljer.
2st inbyggda slutsteg i varje högtalare med 280W klass D för basen och 100W klass A/B för diskanten
Med 2st högupplösta dacar upp till 24bit/384kHz och även MQA, DSD256.
Nu även med HDMI eARC, perfekt för att koppla tv-ljudet med högre upplösning vid 5, och 7,1.
Flera ingångar som ,TOSLINK Optical, Digital Coaxial, Analog 3.5mm Auxiliary, USB Type A (service), RJ45 Ethernet (network), RJ45 Ethernet.(interspeaker)
Stöder även Wifi 2.4 GHz/5 GHz (Trådlöst nätverk) även ingång för nätverkskabel.
Mer bas! Finns även 1st subwoofer utgång. Subwoofers hittar ni Här , det självklara valet är KEF KC62.
Stöder flera uppspelnings möjligheter som
AirPlay 2

Google Chromecast

ROON Ready (coming soon)

UPnP Compatible

Bluetooth 4.2
Fjärrkontroll medföljer
Via den helt nya KEF Connect Appen så kan du bestämma vilken källa som ska användas vid väckning, med stöd för Spotify via Spotify Connect, Tidal, Amazon Music, Qobuz, Deezer, QQ Music via QPlay, Internet Radio, Podcast.
LS50 Wireless II har blivit bättre på flera punkter med nytt Uni-Q element med Metamaterial absorbation technology som bidrar till att eliminerar 99% av högfrekvent distorsion som bidrar till renare och mer dynamisk ljud.
LS50 Wireless II is more than a high-performance loudspeaker; it's the perfect all-in-one speaker system.
It reveals every detail of your favourite music, which you stream from any source thanks to wireless compatibility with AirPlay 2, Chromecast and more.
Freedom
All the music, all the time
No matter how you stream your music, LS50 Wireless II has you covered.
You can stream directly from the Spotify native app with Spotify Connect. With the KEF Connect app you can also stream Tidal,
Amazon Music, Qobuz, and Deezer or tune in to internet radio and podcasts.
All your devices
Out-of-the-box wireless compatibility with AirPlay 2, Google Chromecast and more, backed up with wired connections for your TV,
turntable, CD player and games console. Whatever source you've got, LS50 Wireless II is ready for it.
HiFi enthusiast
LS50 Wireless II has audiophiles covered with support for streaming music files up to 24bit/384kHz, as well as MQA,
DSD256, and Roon Ready (coming soon). These features mean that even the experienced HiFi enthusiast will marvel at this exceptional loudspeaker's ability.
User-Centred
Let you be you
Even beyond the flawless musical performance, LS50 Wireless II is a breeze to set up thanks to the KEF Connect app.
It is intuitive to use with any source in your home, and it allows simple over-the-air firmware updates that bring you new and improved features with the minimum of fuss.


Wired or wireless connectivity
You can choose to operate LS50 Wireless II completely wirelessly at 24bit/96kHz resolution
for a completely clutter-free set up, or you can connect the two speakers with the supplied cable for 24bit/192kHz resolution sound.

Personalised listening experience
The brand-new dedicated KEF Connect app controls LS50 Wireless II on a day-to-day basis,
including intuitive sound settings so you can tune the sound to your own personal tastes.
You can even select your favourite source to wake up LS50 Wireless II whenever it comes on, allowing you immediate access to the best sound.



Simple multiroom system
When using LS50 Wireless II with Airplay 2, Chromecast or Roon you can stream to multiple speakers around your home at the same time.
By using multiple LS50 Wireless II speakers, you can have a simple, high-performance multiroom system.
*Coming soon
Performance
Most accurate, immersive sound
LS50 Wireless II melts away, leaving you to enjoy the music.
Revolutionary Metamaterial Absorption Technology eliminates distortion for a purer,
more natural sound, while our 12th generation Uni-Q with MAT driver array delivers three-dimensional,
wonderfully revealing sound anywhere in the room.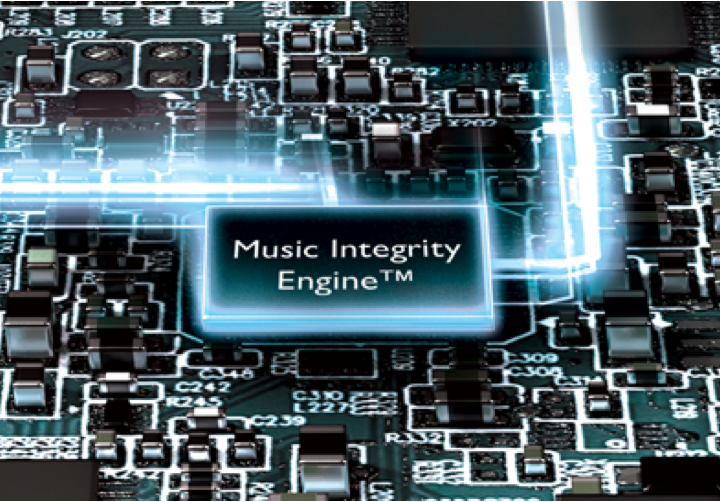 Music Integrity Engine
All aspects of the LS50 Wireless II's performance are aided by
KEF's bespoke Music Integrity Engine.
This collection of bespoke Digital Signal Processing algorithms
is optimised for the Uni-Q driver,
enabling it to deliver a perfectly timed performance, for better
imaging and a tighter sound.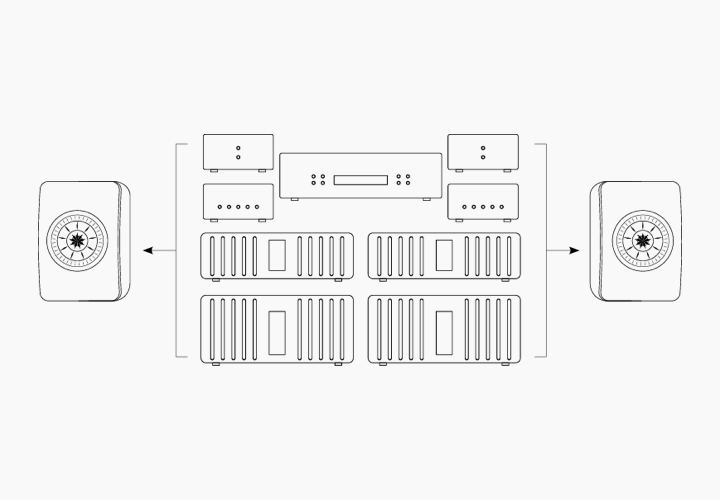 Plentiful power
The built-in amplifiers have been developed in-house by KEF.
Each tweeter is driven by a 100W class A/B amplifier that
delivers a smooth, incredibly detailed treble performance.
Dedicated 280W class D amplifiers power the mid/bass drivers,
for room-filling, controlled sound up to 108db.
Design
Attention to every detail
Every aspect of LS50 Wireless II has been considered for acoustic benefits and from a design perspective.
The low-diffraction, curved baffle is precision modelled around the Uni-Q driver,
while eye-catching heat sinks and colour-matched ports are located on the well-equipped rear.
The top-mounted control panel is designed to be stylish and functional.

The perfect colour for you
LS50 Wireless II is available in three matte finishes, carbon black, titanium grey, and mineral white, as well as a Crimson Red Special Edition.
All the colour options are mirrored on both the drive units and the rear-facing port. The top-mounted control panel is designed to be stylish and functional.
What's new
Owners of the LS50 Wireless may be wondering what's new?
The answer: pretty much everything. The original was fantastic, but LS50 Wireless II is better in every respect, with improved sound, better connectivity and usability.